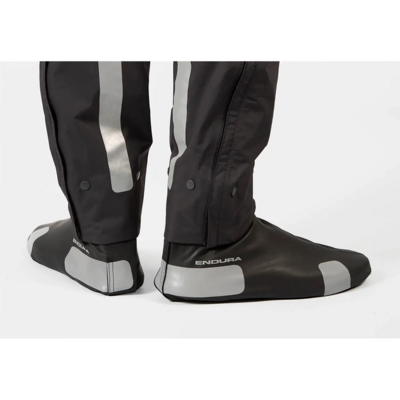 Waterproof Commuter Footwear Protection Design Philosophy: -Unlike most overshoes the Urban Luminite is designed to fit a wide variety of footwear and the open sole design ensures walking with them on is not an issue. The waterproof upper construction and simple velcro closure ensure they meet the challenge of the winter urban commute. Reflective panels: -Large reflective panels catch vehicle headlights, creating a distinct glow is visibility in low light conditions. This overshoe has 360 degree visibility and uses the movement of the feet to increase effectiveness.
Extend your cycling season Round out your cycling wardrobe with one of our most popular autumn road products. The S1 Softshell Shoe Cover keeps you warm, dry, and protected in rainy or dry conditions above freezing. Key features - Choose the right gear for your climate—S1 for above freezing, S2 for below - Profila Softshell fabric for water resistance and windproof protection in cold and wet conditions - Visibility colorway uses biomotion to help improve daytime detectability - YKK zipper for easy on/off - Designed for use with road or mountain shoes for maximum versatility - Reflective elements enhance visibility during nighttime riding
The easiest to apply and most stowable foot protection, packing outsized weatherproofing for the variable conditions of riding in spring and fall. Your extremities are the first casualties of cold, wet cycling, and your toes are the most extreme of them. These shoe covers borrow tech form our winter jackets so your toes lead into cold, wet weather in pristine comfort. For the G2 generation, we extended that coverage even further up the shoe; however, the rest of the shoe remains uncovered to regulate internal temperature. NEOS Light is a wind- and waterproof softshell that doesn't sacrifice breathability. Sole panels of gripTecx add durability, increasing traction while walking and ensuring a push-off or two doesn't abrade a hole in the sole. Taped seams keep the construction waterproof, and raw-cut edges reduce transitional ridges and prevent bulky hems on the soles from getting caught between cleat and pedal.